"The unknown can be scary", I wrote some time ago, and it still is
It was not my intention to cycle this late in the year. I was delayed for two months due to a kidney stone attack. Stopping the project was no alternative, nor was it my plan that this would be the tough trip it has become. Before coming to the cold area I optimistically wrote: "Not knowing how to survive in extreme conditions can be fatal. But the journey can be pure joy if one is well prepared." Reality has been far from joyful at occasions. I just wish I was here two months earlier.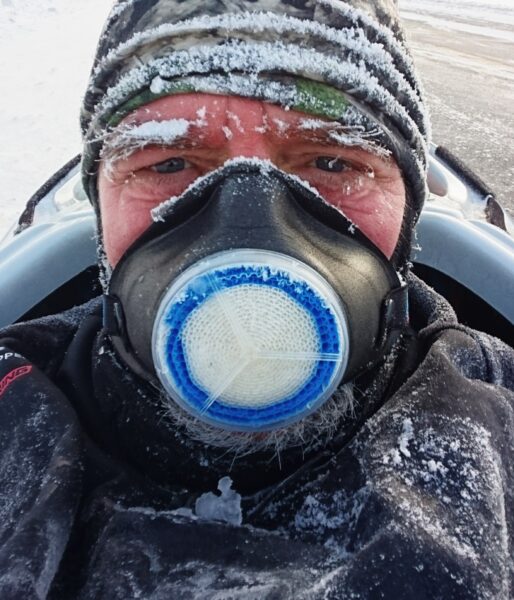 A long wait
28 October, Gällivare
Sunrise 07:12
Sunset 15:17
On my way north I had to wait several extra days in the mining town Gällivare. First because of the weather and then because of a delayed mail delivery. This gave me time to once more prepare myself both mentally and practically. I have gone through the maps, checked the equipment and had too much time to watch movies on my smartphone.
If I had been here during the summer, I would have cared very little. But now, because I risk being stuck by the side of the road for days in bad weather and freezing temperatures, I want to be very well prepared.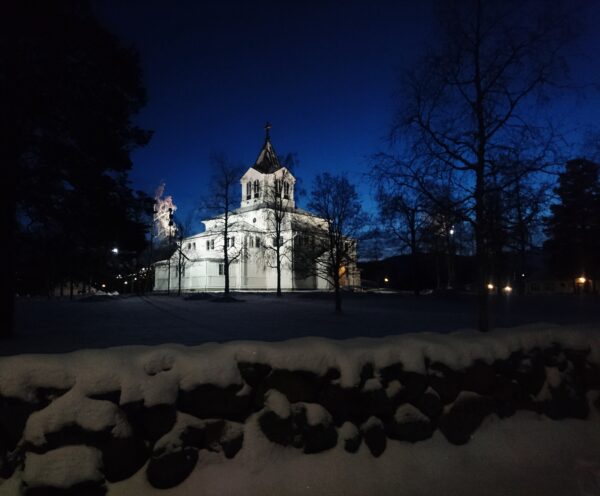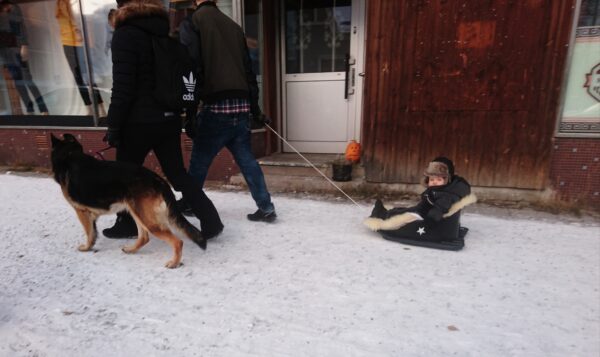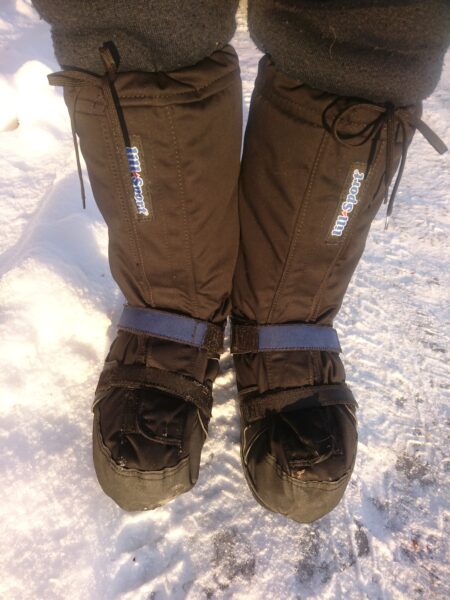 I'm giving up twice the same day
I have been in a comfortable hostel for too long. Now it feels difficult to replace the warm bed with a velomobile that is almost twenty degrees below zero. In addition, the roads are slippery after last week's thawing weather which has now frozen. But I have to get to Vittangi where my winter tires are waiting in the mail.
I was a bit too optimistic when I started pedalling very fast. My puls skyrocketed so that I had to breathe very fast and almost panicked when I didn't get enough air. I was breathing through a heat exchanger that supposedly would heat up the air before reaching my lungs, but the pain in my chest and lungs was unbearable. For some minutes I thought that this is it, I will have to give up. After a short stop by the side of the road, I decided to turn back and buy a different type of heat exchanger, one that is used by cross-country ski athletes. And it helped.
In the afternoon I reached a road where large trucks loaded with iron ore where passing every three minutes. It started to snow heavily and it became pitch black. Every time I met or was passed by a truck, the air was filled with snow smoke and I had to stand still for a while before it laid down. To be seen in this extreme position, I mounted my flashing warning light on top of the velomobile.
The very fine and dry snow blowed into every single part of the velomobile. It was like driving in a desert storm with snow. A thick layer of snow did build up on the road and my speed went down to some few kilometers per hour.
A layer of ice was now building up on the small fairing in front of the cockpit, the visor and my glasses. From now on I had to ride with no glasses and could only look onto the road through a small gap underneath the visor.
This was the second time I decided to give up, but now I just had some few hours left to the house of velomobile friends in Vittangi.
As soon as I came in to the welcoming house of my friends Urpo and Tarja I forgot all about my challenges. I was able to repair my sandals that had been chafing on the inside of the velomobile and had a very good sleep after a great dinner.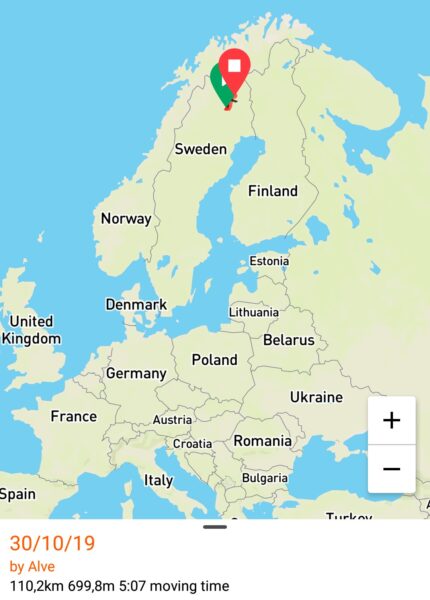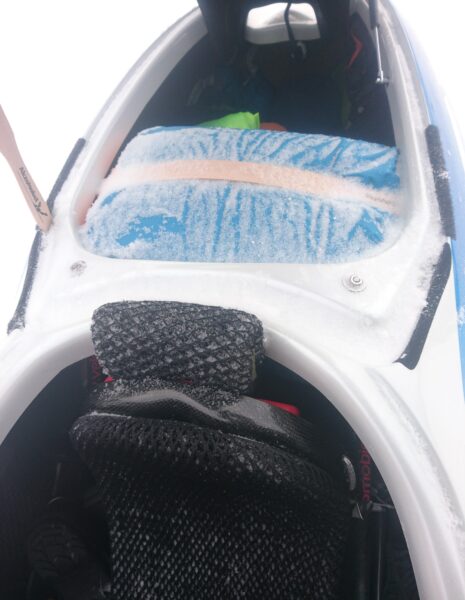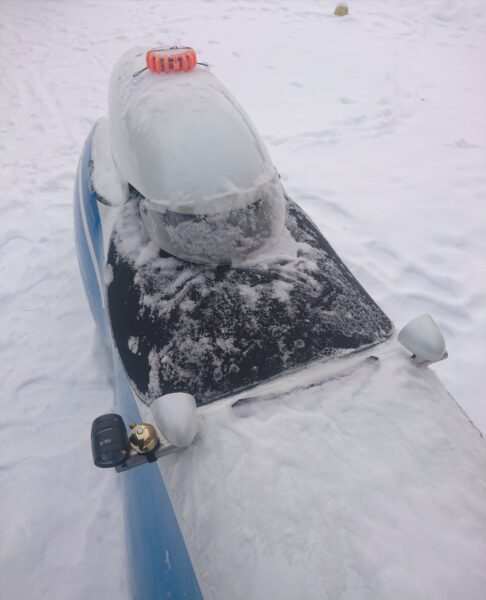 Further preparations
31 October
My winter tires had arrived with the mail. But I only mounted tires with studs on the rear wheels. (Marathon Plus in the front and Marathon Winter in the back.)
I moved the pedals forward to give more space to my large warming package around my feets which hardly fit in the velomobile since it is built for warmer conditions.
I was not able to clean the seat since the cover (Ventisit) had frozen and could not be detached.
The hospitality I was met with was fantastic and a hot sauna was the the crown on the jewel.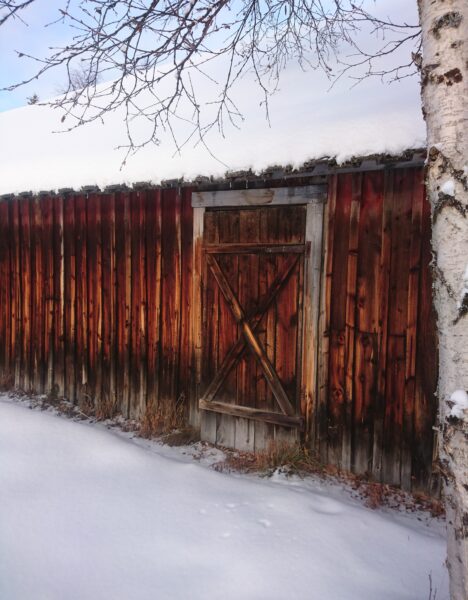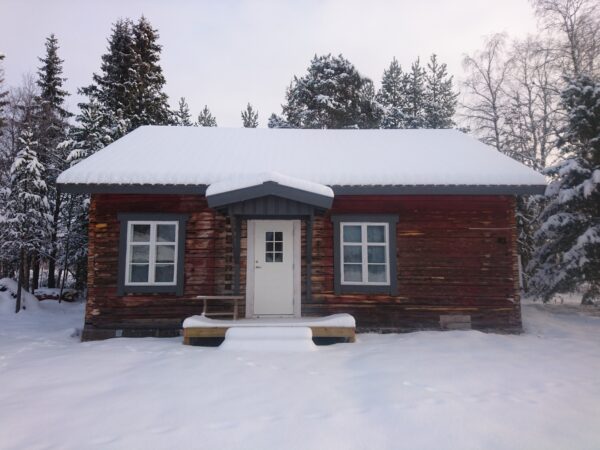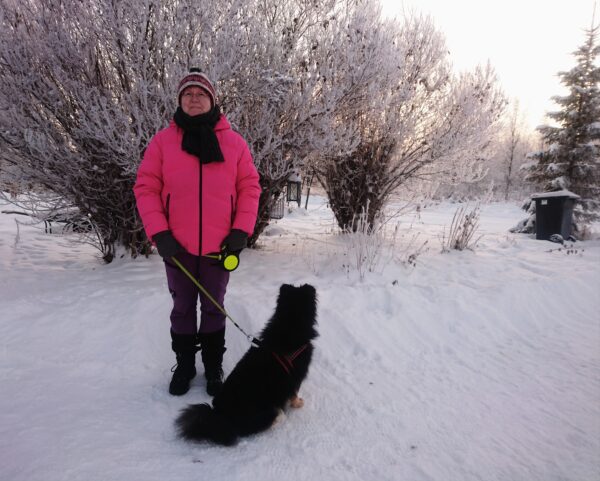 I give up, not again
1 November
-18°C
Sun up at 7:47, sun down at 14:39
The new tires with spikes are extremely slow. They seems to reduce the speed with about 25 to 30 percent. I have to pedal extra much to move in an acceptable speed. But wen doing so I get suffocated in the extreme cold. The wind is biting my face because I can't use the visor or glasses as shields, they are fogged up with frost like beer glass from the freezer. The condensation on the inside of the velomobile has frozen and my thick trousers get stuck to it so that I have to force my legs to the center. All this problems together makes me feel like giving up. I stop to get my breath and lower my puls before turning back. I have given up again.
Before turning around and going back I saw a sign with a 🅿 for parking. Just to be safer when turning I aimed towards that place. But after the parking bay there was a large steep downhill I couldn't resist. Down I went and reached Karesuando, a very small village by the border to Finland at five in the afternoon when it had been dark for some hours.
My watch had stopped so I went in to the shop and petrol station to ask if there was any watchmaker in the village. No they answered and handed me a special tool to open my watch. Ones you've opened your watch we can sell you the right battery they replied. I then realized that in this remote region one has to learn how to fix the problems one self.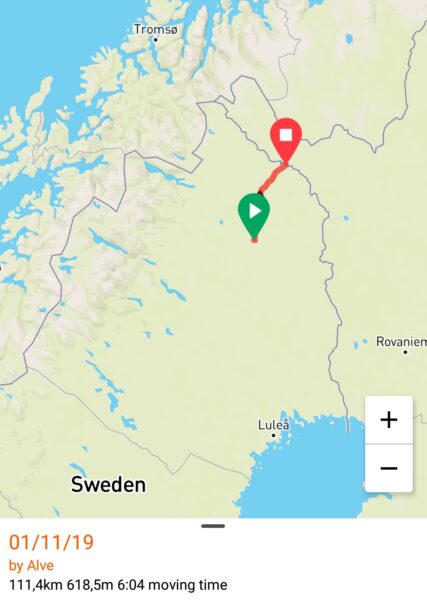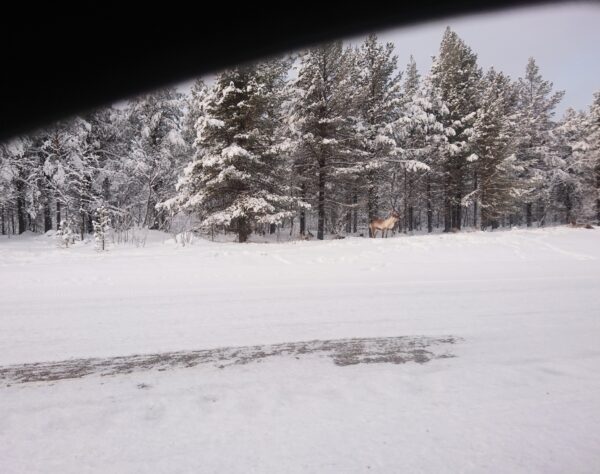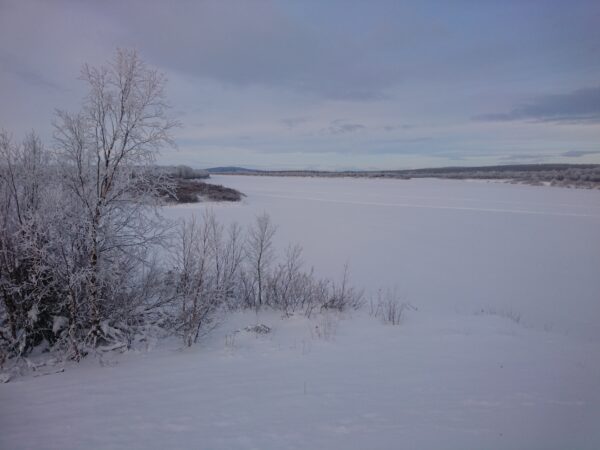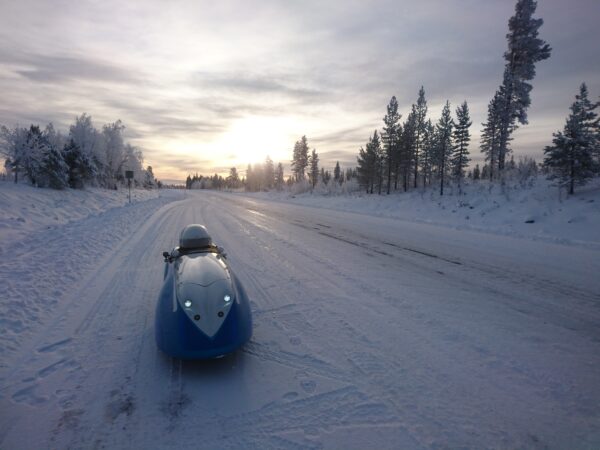 My first time ever in Finland
2 November
-20°C
Sorry if I complain too much, but this is one of my worst days so far.
I start long before light is coming. It is snowing and it seems as if they don't bother plowing the roads on Saturdays. I have to force my way through a thick layer of snow and as soon as I drive outside the tracks made by cars and trucks I'm stuck. Several lorries use chains on there wheels and leave deep grooves on the hard packed snow that is beneath the soft snow. It is like riding on a gigantic washboard.
Fortunately I had decided to make this a short day.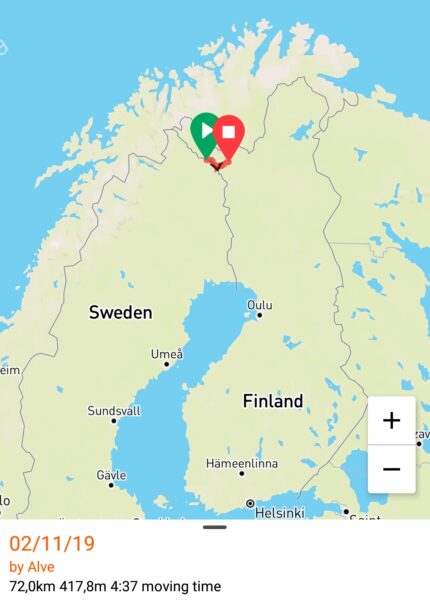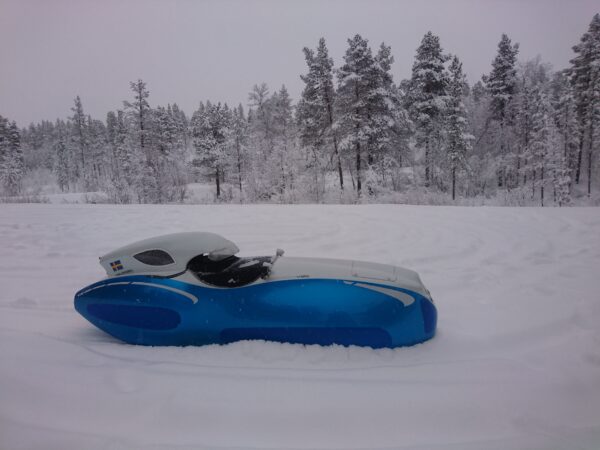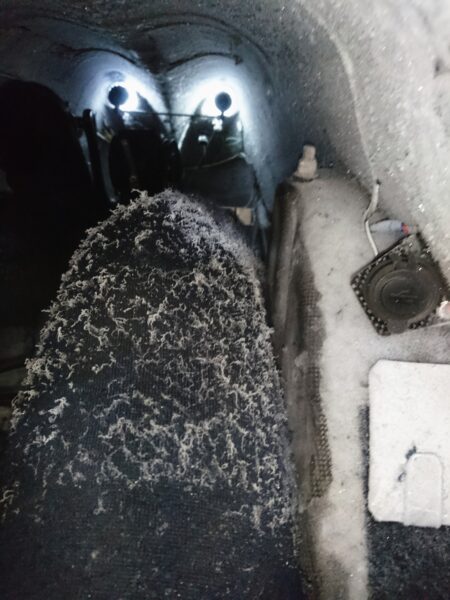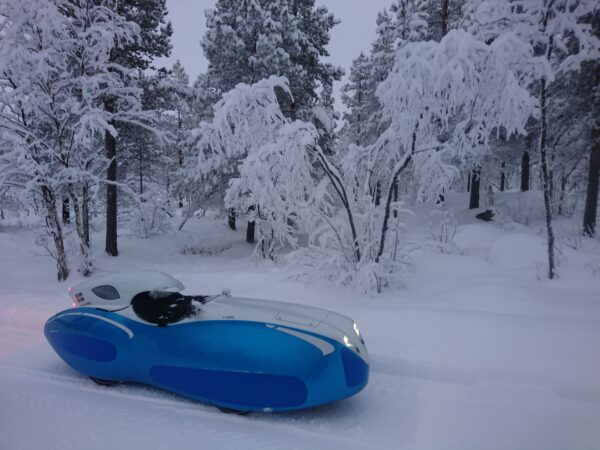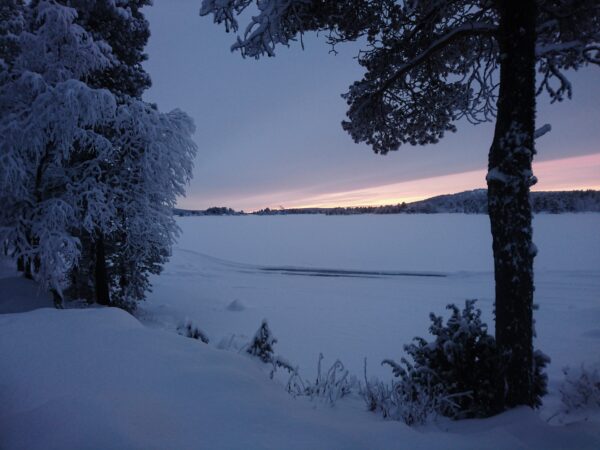 Coldest in fifty years
3 November
-25°C
It's too cold and I feel uneasy. I'm afraid that I might get frost bites if it becomes a little bit colder or if the wind increases.
Distances between houses are very far and there is no much traffic.
The hard part now, since I did find a solution to my cold feets, is to keep the sweaty upper body warm. No matter how few or how many layers of woolen sweaters I have, it is always cold because of the wet and dump clothes. The situation is untenable and I decide ones more to turn back after next bend.
Pine trees do not grow this far on the northern highlands. In stead there are lower trees with no leaves in the winter. But just when I am going to turn back, I see some strange tall trees with a large bend on the top as if the wind had damaged them. Everything is covered with icy frost snow and I don't realize that the damaged trees are lamps by the customs barracks. I am entering Norway.
This has been the coldest October in the last fifty years they told me when I arrived in Kautokeino.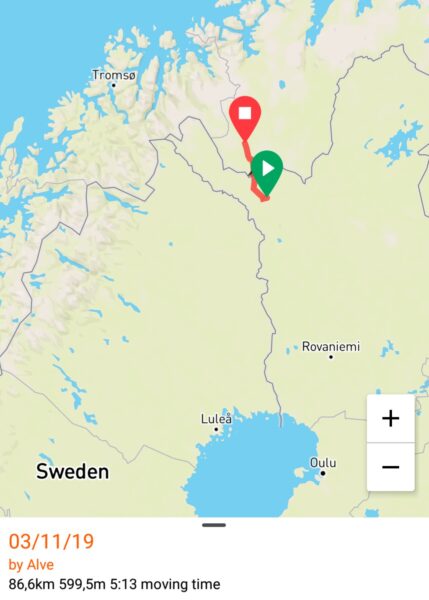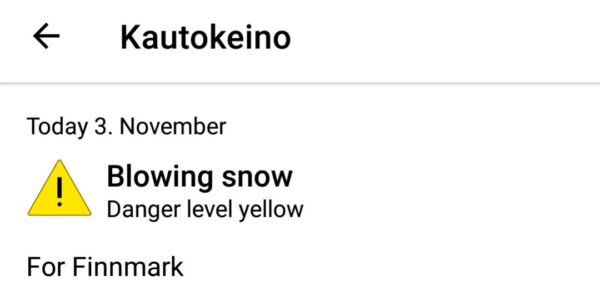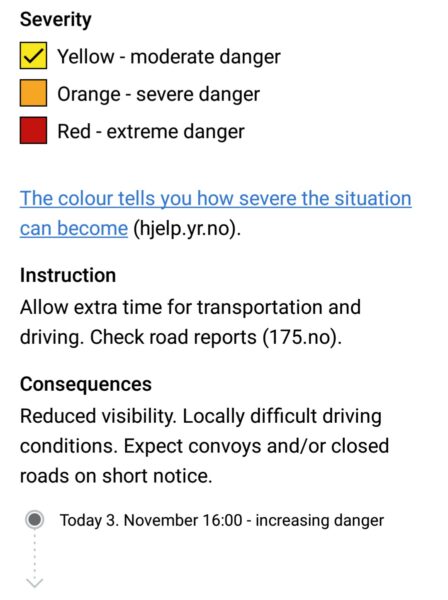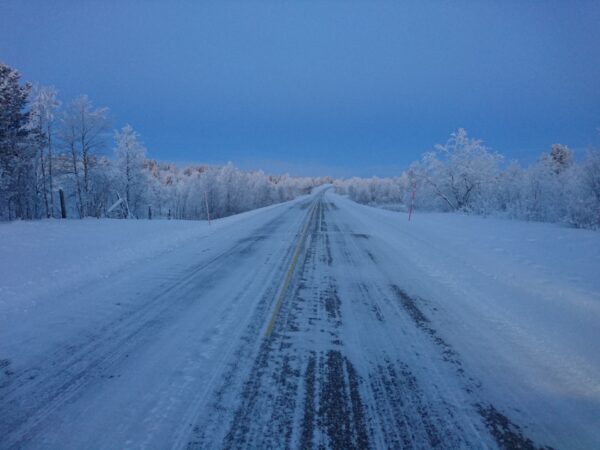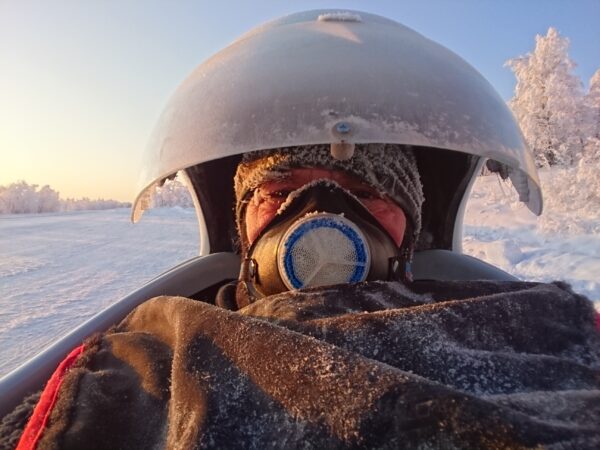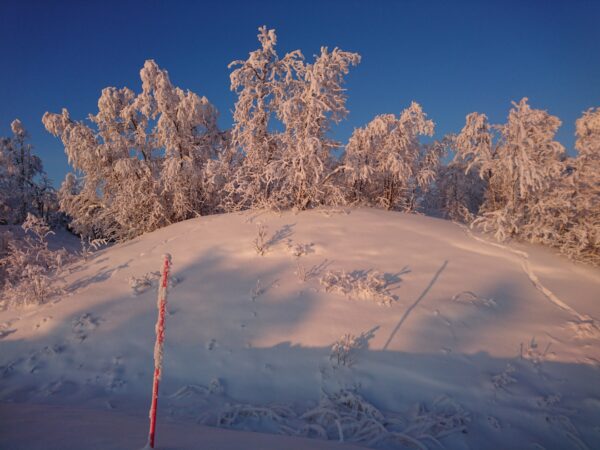 From the freezing -20 to the warm -6
4 November
-20 at start
I started early because the days are short. There is only six hours of sunlight today and the distance of 130 km to Alta by the coast is quite far in these conditions. I had some warmer clothes on today, but I can't say it helped, I did just get more sweat on the upper body. But my feets where warm, or at least I didn't freeze too much there since I had the electric insoles on from start.
Road hasn't been this good for a long time. Half of the way there was bare asphalt and I could hear the studs from the tires klicking when hitting the ground. The highlight today was a stretch of about ten kilometer of very fast downhill in a deep valley surrounded by steep mountain walls. During the summer I easily ride well over 90 km/h when going downhill, but in this slippery and snowy conditions I am happy to have reached a speed of 63 km/h.
What a relief! I suddenly feel safe when the temperature by the coast is as warm as -6°C.
I have rented a cozy simple little cottage at a campsite. It will be extremely nice to crawl into my own silk sheets while listening to the dripping from the washed wool sweaters hanging to dry. I will sleep like a log. 😴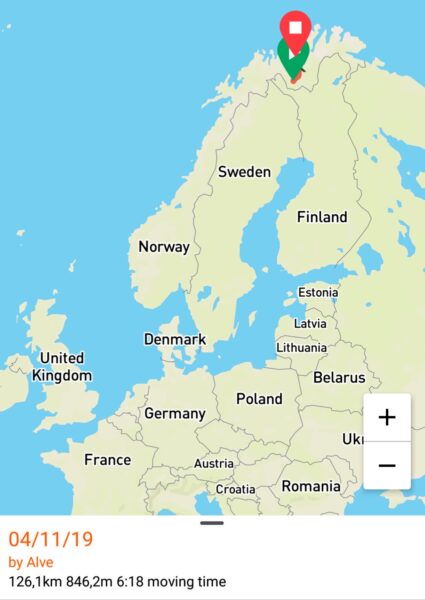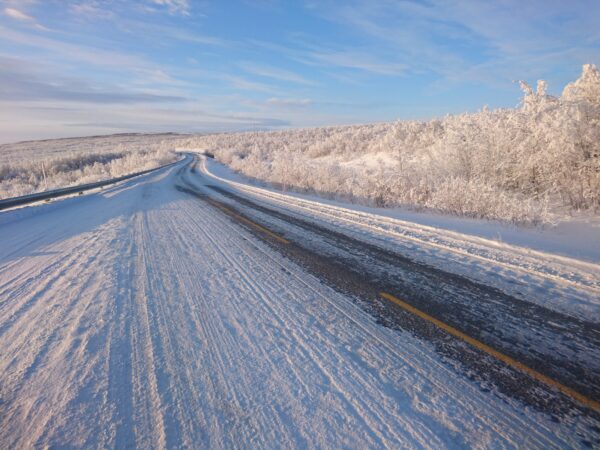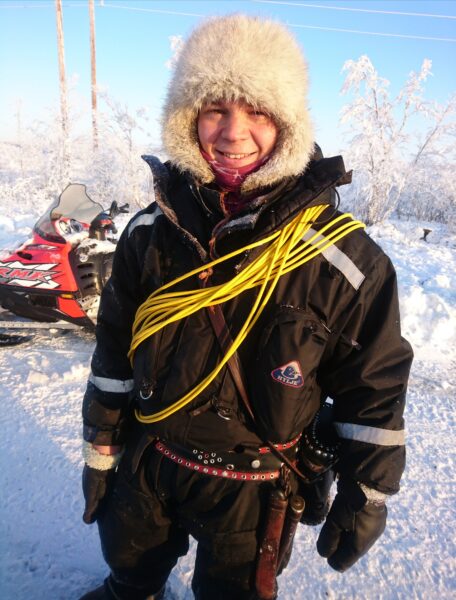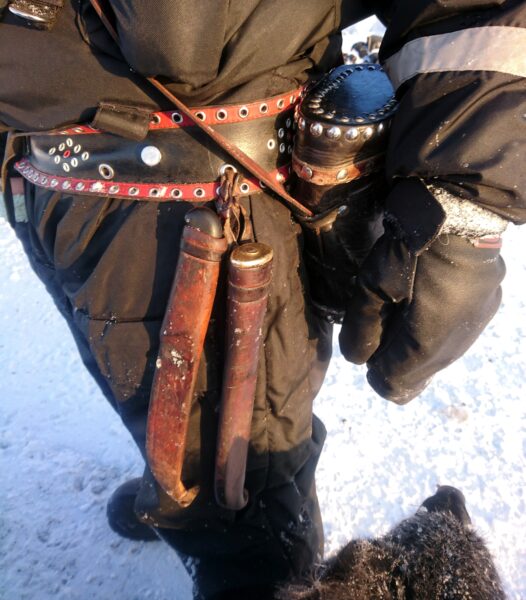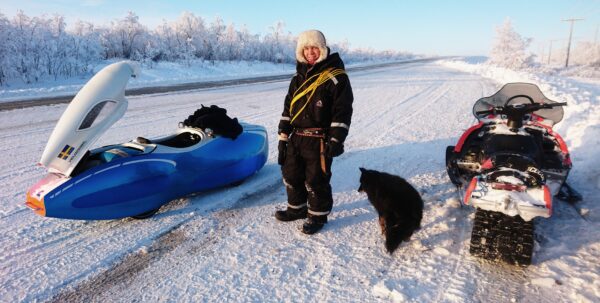 A snowy day
5 November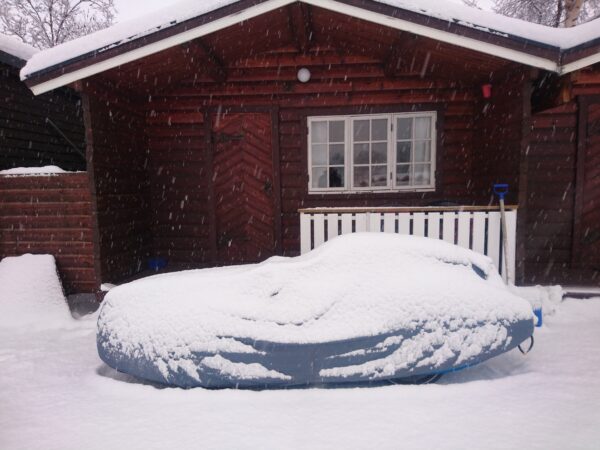 I must have been really tired. 😴 Slept until 12.30. I needed that. I'm still feeling pretty exhausted both mentally and physically.
It is snowing heavily and the roads will not be drivable for a couple of days. I'll take it easy and wait for the right moment to continue the trip. While waiting, I take the opportunity to send this greeting to you from Alta by the Norwegian coast. Cheers and regards!